Post by Tangle on Oct 27, 2016 23:29:10 GMT
...Although I'm probably going to manage turn-to-turn things.
---
We're gonna play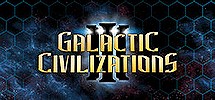 !!!
...Welcome, all. The thread that follows will be an interactive after-action-report of the game Galactic Civilizations III- a game similar to Stellaris, although the GalCiv franchise predated Stellaris by over a decade (Master of Orion is another matter entirely, as it predated GalCiv by a decade...)
This means that within the game, we will:
- Manage an interstellar empire
- Decide upon if we're gonna be evil or not
- Explore and exploit the vast reaches of space
- Enter wormholes
- Get a lot of money
- Possibly cause a genocide or two
- Possibly have to coerce our citizens to work on keeping us out of debt
- and finally, Win The Game (by any of several methods).
---
Mods:

-
All of the game's DLCs as of 2016-10-27, allowing for another four factions to play as.
- Several species mods, most of which are very high-quality
- A few ship mods, for use in exploration
- A VERY expansive mod which adds several extremely high-quality races, ship styles, and a few new race traits- GRM.
This makes over 40 factions to choose from, and that's just major races...
---
Posts once we get into the game will go as follows:
- A description of the turns between the previous turn and this turn, including:
- A summary of exploration, especially any newly-discovered species
- A description of resource acquisition; including newly discovered resources, newly-built colony improvements, and any trade bargains sent to us by other nations
- A featurette on the nation's stability
- A summary of scientific activity
- And, of course, Military Production.
Then, a question will be posed. Depending on the nature of the post, it'll be either- how to manage the empire going onwards (remain in the same ideology, or lean another direction? Be wary of another nation and militarize, or just try to get good deals with them?), what technology to research, how to manage a colony (make it all about the money, or all about the giant warships streaking through the skies?), or any other requisite decisions.
Posts will occur either: every 20 turns, every time a new civilization is located, every time a new technology is fully researched, or every time a new colony is established.
---
The current decision is: System options. This helps determine how frequent stars, planets, marauding independent groups, and of course Weird Space Things will be.